Have you ever found yourself wanting an outside eye to help out your company? Have you felt the need for someone with more specialized skills to assist in a certain area of your business? Do you need someone to help identify problems within your company? Do you just need more time to focus on the day to day tasks and would like to outsource some of your other work in order to supplement your business and your staff? If you answered yes to any of these questions, you may be in need of a small business consultant! 
What is a small business consultant?
Small business consultants are professionals who often specialize in a more niche aspect of business, such as an attorney skilled in business law, certified public accountants (CPAs) or even consulting firms which offer a variety of business-related services, like marketing, management, sales, or advertising. The more common types of consultants include strategy and management consultants, operations consultants, IT consultants, human resources consultants, and sales and marketing consultants.
The different types of small business consulting services
To discover which type of consultant may be right for you, dive into learning a bit more about different types of consultants and what they do.
Digital Strategy and Management Consultants can help with expanding your product offerings, widening your marketing footprint, developing a business plan, reorganizing your business for efficiency and cost savings, or even buyout another company. They can assist with your business' social media, market research, online marketing, and website development.
Operations Consultants can help with increasing your process quality and efficiency. They may work with project management, develop new operation plans, helping to reduce steps or mistakes and increase your profit margins.
IT Consultants are one of the most popular types of consultants, with the rapidly changing pace of modern technology. Different things IT consultants can do include maintenance and support services, application development, application integration, to name a few. They can also assist in updating operating software, updating servers, upgrading internet providers, phones, and much more.
Human Resources Consultants are often used to work on employee needs. They can be helpful in recruiting, training, teaching, and improving employee retention. You may also use them as leadership and communication development specialists, and use them to identify the strengths and weaknesses in your staff..
Creative Consultants, PR and Media Consultants are becoming more popular with the expansion of media and digital marketing. The consulting practices and services may offer include graphic design, videography, photography, branding, promotions, campaigns, outreach, events, and communications.
Sales and Marketing Consultants create marketing strategies, launch advertising campaigns, build a high level cohesive brand, make sure you are generating good business, even initiate the sales process.
So, why would you need one of these types of consultants?
Why you may need a consultant
There are many reasons why a small business may need a consultant. You may want added expertise, a fresh set of eyes, a seasoned problem solver and idea generator, a trainer, an influx of new life into the business, or an objective standpoint on business matters.
A small business consultant can offer…
Added expertise and specialized skills
Perhaps the most common reason small business owners hire consultants is for business growth. They allow them to gain access to special skills they may not have among in-house employees. These skills can range from marketing to finance specialists to recruiters. Hiring consultants makes it easy for you to gain access to expertise and specialized skills on demand, whenever you may need.
Hiring consultants is a cost-effective way to supplement your staff, too. While small business management consulting rates are usually a bit higher than a full-time employee, the money saved by only hiring a consultant when their skills are needed, rather than full time, will be more cost effective in the long term.
A fresh set of eyes, an idea generator
When dealing with an issue or important decisions in your life, do you often turn to friends and family for advice? It can be useful to do this in a business, too! Because consultants have a track record of working with many different companies, they may have seen an issue that you may come across in your business, and often they will have a creative solution to problems or experience in handling something you might not have dealt with before. Consultants are seasoned problem solvers who are able to offer fresh, innovative ideas that clients may not have been able to come up with on their own.
A trainer or teacher
Consultants may help companies keep employees on top of new business trends or developments in their field, consultants may be hired to teach. Consultants can also be useful in training new staff when you don't have the time to do so yourself. 
An influx of new life into the business
No one likes change, least of all corporate America. But change can be good, and often, change is necessary. Consultants can help usher change into an organization seamlessly, whether it be through staff leadership retreats, workshops, e-learning, training programs, new technology, or helping to teach a new business ideology or way of communication, consultants can provide those much needed new methods and ideas into your business, as well as your staff!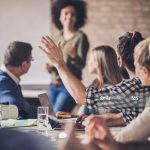 Image Source: Getty Images 
Consultants are a valuable resource for any small business, and the impact they can have on a company should not be underestimated. If your annual revenue has been the same or declining in the last 3 years, your business isn't serving you, you need help managing your growth curve, or your team isn't hitting goals month over month, you should consider hiring a business consultant.
We are here to help you navigate so

 

schedule a call

 

to discuss your specific business goals